Romaine Lettuce Wraps
Are you Gluten-Free? Looking to cut calories? Following the Keto Diet? You asked – we delivered – Pickleman's is proud to announce our brand-new Romaine Lettuce Wraps! Lettuce introduce you to our new Romaine Lettuce Wraps! Each and every hand-crafted sandwich on our menu is now available in our new fresh, flavorful Romaine Lettuce Wrap. Each day, our fresh Romaine lettuce is submerged in a lemon zest ice bath to maintain peak crispness throughout the day. Lettuce Wraps are served cold and consist of 3-4 Romaine leaves and all the high-quality Pickleman's ingredients you know and love. The best part? The Romaine lettuce only accounts for 20 calories on each lettuce wrap – which means swapping for a Lettuce Wrap vs. our standard all-natural bread saves 320 calories per sandwich!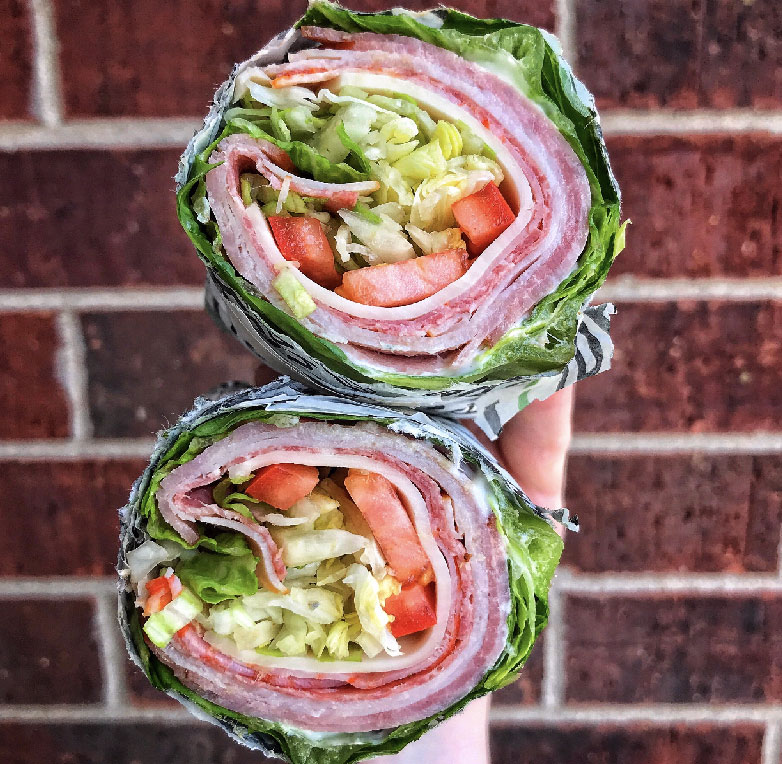 Why Romaine Lettuce? At other restaurants, lettuce wraps typically consist of iceberg lettuce. However, at Pickleman's we know that not all lettuce is created equal. Romaine adds texture and flavor to your wrap while also containing a high nutritional value and added health benefits. Some benefits of Romaine include:
● Excellent source of Antioxidants, Vitamin A and Vitamin C
● Boosts heart health
● Helps heal skin and prevent signs of aging
● Boosts immunity
● Helps with weight loss
Due to the price surges of Romaine lettuce throughout the year, we do charge a 99 cent upcharge in order to offer this product year-round. Lettuce wraps are only offered on full-size sandwiches. Are Lettuce Wraps Gluten-Free? Yes! If you're looking for a fresh, healthy Gluten-Free meal on the go – our new Lettuce wraps are the perfect solution. Gluten-Free guests can now enjoy our selection of award-winning sandwiches! Disclaimer: The following sandwiches cannot be made gluten-free - #6 Asiago Chicken, #9 Italian Beef and #10 Meatball. If you have a gluten allergy, please alert our staff: Employees will prepare Lettuce Wraps like standard sandwiches unless a customer with an allergy requests special prep. At that time a manager will pull out our Green Gluten-Free Cutting Board, a clean knife and change their gloves to limit the risk of cross-contamination. Are Lettuce Wraps Keto Friendly? Absolutely! Our new Lettuce Wraps are low-Carb and can be customized however you wish to meet your individual dietary needs. Swapping for a Lettuce Wrap vs our standard all-natural bread saves 320 calories per sandwich and 64 grams of carbohydrates. Are you ready to try our new Lettuce Wraps? Find a store near you or place your order online today! At Pickleman's, complete transparency and offering whole, healthy ingredients are our priority. View our full nutritional info and please feel free to reach out directly with any dietary questions or feedback.