New Garlic Cheese Bread Toppings
Make Your Masterpiece
Now you can add your favorite pizza toppings to your Garlic Cheese Bread like pepperoni, sausage, bacon, meatballs, spicy giardiniera peppers, spinach, tomato, and more! You can start customizing your first order by clicking here. You can also add sides of our house-made ranch or chipotle ranch to Make Your Own Masterpiece.
Garlic Cheese Bread
Pickleman's NEW Garlic Cheese Bread is served on our all-natural French bread and topped with melted mozzarella and whipped garlic butter which is made with a blend of minced garlic and Italian seasonings. All of our Garlic Breads are finished with a dusting grated parmesan and Italian seasoning and come with a side of our signature marinara sauce.
Here's what you need to know:
Garlic Bread and Garlic Cheese Bread come in two sizes, Regular which is one loaf and a Large which is 2 loaves. Both are served with a 3oz side of marinara and now you can add your favorite pizza toppings can be added so you can Make Your Masterpiece.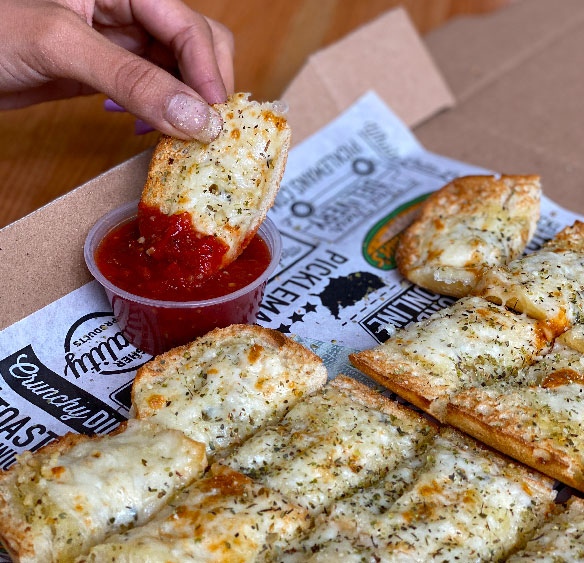 GREAT Garlic Bread Starts with All-Natural Ingredients
Our all-natural white French bread is made from simple, clean ingredients for bold flavor without the unnecessary preservatives and coloring other recipes use. Our bread is made from simple ingredients like wheat & malted barley, sea salt, sugar, semolina flour, water, and oil.
Garlic Breads Go with Everything
Our New Garlic Breads are the perfect appetizer, side, or snack for the whole family and we'll deliver them to your door. They complement our delicious Thin Crust Pizzas and also go great with any of our Sandwiches, Salads, or Soups.
Pickleman's has savory sides like our Garlic Bread and Garlic Cheese Breads to go with your next pizza delivery as well as our award-winning sandwiches, fresh chopped salads, gourmet soups, and made from scratch chocolate chip cookies. At Pickleman's we offer options for contactless delivery, pick-up, and curbside service at some locations.