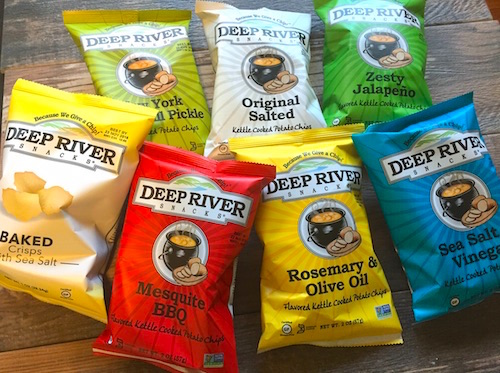 Now Available At All Locations
Pickleman's is always looking for new clean labeled products to add to our menu. When we first picked up a bag of Deep River Chips in New York City we knew they had something special going. Deep River Snacks offers kettle cooked chips that are GMO Free, Gluten Free, Kosher, and contain no preservatives or trans fats. All of their Kettle Cooked Chips are cooked in 100% Sunflower Oil to reduce saturated fat.
Bigger & Better
One of the biggest changes in the new chip line-up will be the size of the bags. The previous Frito-Lay products ranged from 1 1/8 oz. to 1 3/4 oz. per bag. The new Deep River Kettle Chips will come in 2 oz. bags. (The new Nacho Cheese will be in 1.5 oz. and the Baked will come in a 1 oz. bag.)
Check Our All The New Flavors Below
Starty Your Order Today!