10 Pickleman's Meals Under 500 Calories
As we say goodbye to the holiday season and ring in the New Year, we're all looking to start fresh and make our resolutions a reality. Some of us are striving to wake up earlier, hit the gym more regularly, complete the projects we keep putting off, and most of all, eat healthier. Here at Pickleman's we understand and want to help make those "New Year, New Me" resolutions come true. While we can't clean out your garage or lure you out of your cozy bed to hit the gym, we want to make your lunch break a stress-free, healthy experience.

We pride ourselves on offering higher quality, fresh ingredients to make healthy meals you can feel good about. From our deli meats sliced in-shop every morning to our fresh romaine being chopped daily and submerged in a lemon zest ice bath. We go above and beyond to deliver you the very best meals at a reasonable price.

According to the University of Scranton's Journal of Clinical Psychology, 85% of New Year's resolutions are related to self-improvement and health goals. Because we're dedicated to healthy food year round, we want to help make the transition easy for you. Most people can lose weight by lowering their caloric intake. For that reason, we have compiled a list of our Top 10 Meals Under 500 calories from Pickleman's:
Top 10 Meals Under 500 calories from Pickleman's
Half #1 Turkey Sandwich with Avocado 371 cal
8oz Tomato Bisque (no roll) 90 cal
461 Total Calories
Full Avo Cobb Salad on Romaine 425 cal
Yogurt Ranch 2 oz. 26 cal
451 Total Calories
Half Italian Chop Salad on Romaine 288 cal
8oz Baja Soup (no roll) 180 cal
468 Total Calories
Half #3 Veggie Sandwich 307 cal
Baked Crisps 120 cal
427 Total Calories
Full Southwest Salad on Romaine 294 cal
2oz Chipotle Ranch 192 cal
486 Total Calories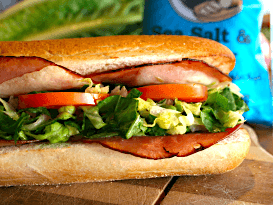 Half Ham Sandwich 308 cal
12 oz. Tomato Bisque (no roll) 130 cal
443 Total Calories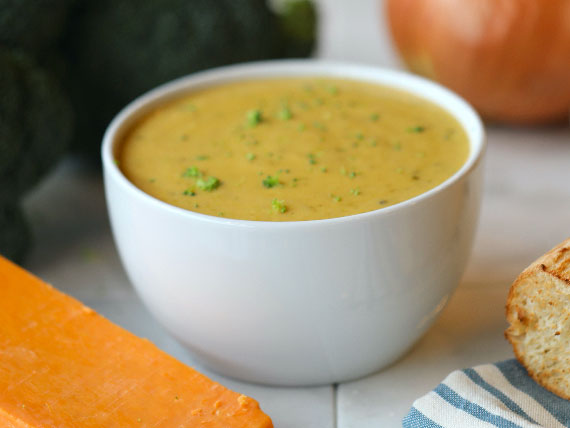 Half Garden Chop Salad 184 Cal
2oz Yogurt Ranch 26 cal
8 oz Broccoli Cheese (no roll) 210 cal
420 Total Calories
Half Café Chop Salad 198 cal
Rosemary and Olive Oil Chips 280 cal
478 Total Calories
Half Walnut Cran Salad on Spinach 350 cal
350 Total Calories
8oz Vegetarian Lentil Chili 430 calories (no crackers)
1/2 Pickle 0 calories
430 Total Calories
Pickleman's Top Stories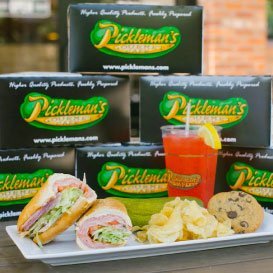 Pickleman's offers a variety of catering options to serve any sized group. Browse the menu and place your order today.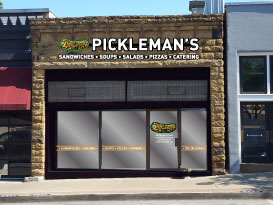 We are proud to announce our expansion to the state of Arkansas in Fayetteville. It will be located on Dickson Street in Fayetteville, AR.